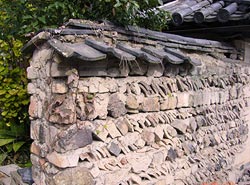 Mud wall in Inbe (Village of Bizen pottery)


November 02, 2008
I was wanting to visit someday again. So I went to Bizen with my family. We visited the Shizutani school that is the oldest in the world. We were impressed by the high will and the environment of school. At Bizen, we visited a lot of kilns and pottery shops. I recalled a guinomi without the box of four years ago and stopped in that artist's shop. The artist was away, but we had tea and heard stories of ware from the madam. Of course, I got the box. We bought a large length plate and left this shop. I found the guinomi of the photo at the pottery shop around the Inbe station. I thought that various colors of flame that appeared to surroundings of the ware was interesting.
Copyright
© 1997-2013 Yoshikazu Fujioka.
All rights reserved.