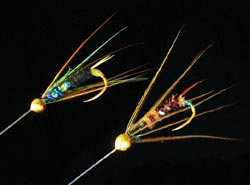 Traditional Kaga Fly of Meboso Hachirobei Co. that was established in 1575.


January 06, 2008
A soft form like the liquid is attractive. This is a work of a woman artist who is taking an active part based on the glass studio in the Kanazawa city. Soft light and the shadow that the glass makes make feelings that enjoy sake comfortably.
Kanazawa is one of Japan's foremost castle towns where the culture and the art from old have been importantly succeeded. In Edo period, the traditional craft "Kaga Fly" of the ayu fishing permitted only by the samurai is the one. The sake drunk while imagining old-time fishing while looking at traditional flies becomes more delicious.
Copyright © 1997 Yoshikazu Fujioka.
All rights reserved.