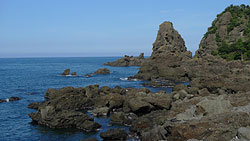 Echizen Coast full of variety.


November 01, 2011
Echizen pottery is one of "The Six Old Kilns" in Japan, and is inheriting the way to fire the clay that is unique to Japan. When I plan suddenly and traveled Kanazawa and Noto Peninsula, I bought this guinomi at Ozowara, Echizen-cho. This blackish brown guinomi is unadorned and there is a simple taste. Echizen-cho is at the westernmost end of North Ridge Region, Fukui, and has Echizen Cape jutting out into the Sea of Japan, and is surrounded by the sea and the mountain and has rich nature.
Copyright © 1997 Yoshikazu Fujioka.
All rights reserved.