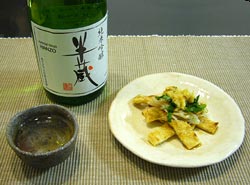 Sake Hanzo and Iga Pottery Guinomi


November 04, 2005
I bought this guinomi when I drove to Iga Ueno. It is a guinomi with simple air. I bought Ota Brewing Hanzo of a local sake at the liquor store in the vicinity of the Ueno Tenjingu Shrine at the same time. It was a light taste, and very delicious sake.
Copyright © 1997 Yoshikazu Fujioka.
All rights reserved.