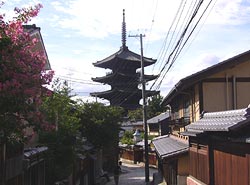 Tower of Yasaka (Hokan-ji Temple)
The landmark in surrounding of Yasaka


September 17, 2007
I went to Ninen-zaka to look for a present of earthenware, and I found this guinomi at Nakatani in Yasaka. I am attracted to earthenware of kobiki without reason. This is a ki-kobiki guinomi of the young artist who has the kiln in Kyoto Sagano. I like it in elegant shape and the color.
Copyright © 1997-2018 Yoshikazu Fujioka.
All rights reserved.