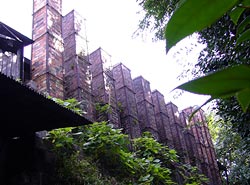 Noborigama kiln of pottery stroll path
in Tokoname (ten chimney)


September 01, 2005
This is kobiki style guinomi with a beautiful pink pattern that my wife has gotten from the younger sister. I found the guinomi of same signature (artist of Tokoname) by chance in the net shop though I did not know artist's name for a long time.
Copyright © 1997 Yoshikazu Fujioka.
All rights reserved.