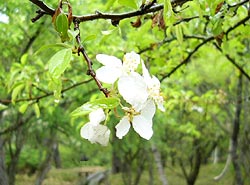 Oku-Nikko Senjogahara of June when flower of Toringo crab apple blooms


June 07, 2004
When I lived in Tokyo for business before, my wife and I went to Oku-Nikko Senjogahara respectively for the fishing of the marshland and the appreciation of the plant. On the way, we enjoyed the stroll of pottery and the pottery shop in Mashiko. This is a guinomi I found at that time.
Copyright © 1997 Yoshikazu Fujioka.
All rights reserved.