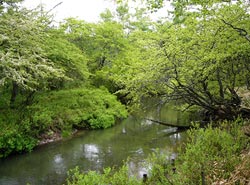 Yugawa River in Senjogahara Oku-Nikko


February 14, 2007
I lived in Tokyo for business. I make a detour when going fishing to Oku-Nikko and have visited Mashiko. I had moved to Osaka for business though I wanted to visit again. I was able to make a successful bid for Mr. Akira Miyazawa's work in the net auction when I was wanting the guinomi that seemed to be the Mashiko ware. It is an elegant guinomi, and I like it.
Copyright © 1997 Yoshikazu Fujioka.
All rights reserved.