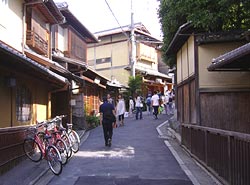 Ninen-zaka of old town worthy to Kyoto


April 06, 2002
This is one of the guinomis that I bought at Nakatani in Ninen-zaka. This pottery shop contains a good collection of the artist's work and the kiln's work of whole country also though this area is a producing district of Kyo pottery, Kiyomizu pottery. I am not certain though I remember this as the work of the artist in Shigaraki.
Copyright © 1997 Yoshikazu Fujioka.
All rights reserved.