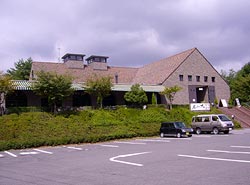 A particularly big pottery shop "Ogoya"
in Shigaraki


November 09, 2004
I often stop to "Ogoya" when going to Shigaraki. It is a big pottery shop, has a cafe and gallery. I bought this guinomi and the katakuchi(lipped bowl) at the Ogoya. I knew artist's name when I bought it, but I do not know whose it is a work now. After all, the artist's name did not turn out though I inquired of Ogoya that bought it, Shigaraki Ceramists Association, Traditional Crafts Center Shigaraki, and Shigaraki Tourist Association, etc. Still, I like simple air of this guinomi very much.
Copyright © 1997 Yoshikazu Fujioka.
All rights reserved.