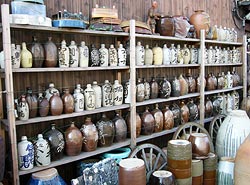 The outside wall of small pottery shop at Shigaraki Station entrance


August 19, 2007
I went to Shigaraki and found it by the stroll around Traditional Crafts Center. The clerk said the price of several hundred yen though I thought the price of several thousand yen, so I became gained feelings. It will arrive from Kyoto in about 1 hour when accompanying the stream with the Otogawa Rainbow Trout Area that got into the news by the FF magazine and driving. This fishing area cannot see the former stream by the construction of dams, the construction of the second Meishin Expressway and the withdrawal of fishing shop that participated in management now.
Copyright © 1997-2018 Yoshikazu Fujioka.
All rights reserved.