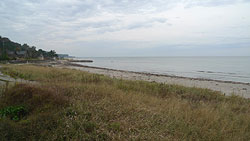 Suzu Hachigasaki Coast


November 02, 2011
Trip of Kanazawa and Noto Peninsula that planned suddenly. I went to Hachigasaki Coast via the northernmost tip of Noto Peninsula, and bought this guinomi at the Suzuyaki-kan. This guinomi has a quiet simple beauty of black gray. It is said that Suzu pottery uses the clay containing many iron, and is fired at high temperature 1200°C or more, and becomes peculiar black gray and the surface of a china changes by the ashes of firewood.
Copyright © 1997 Yoshikazu Fujioka.
All rights reserved.