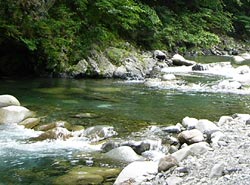 Stream of a certain stocked fishing area


February 26, 2009
I sometimes become miss the stream at the beginning of closed season. In the day of such autumn, I go to the stocked fishing area with the members of the fishing club. Because the woman who doesn't go always together participates in fishing, it becomes lively . This guinomi is the first work of the woman's club member that has just started the ceramic art. Because it is the guinomi of a just good shape and size, it seems to be able to drink delicious sake.
Copyright © 1997 Yoshikazu Fujioka.
All rights reserved.