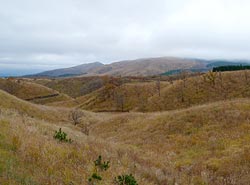 View from Yamanami road


November 12, 2009
When I visited Kurokawa hot spring and Yufuin hot spring, I bought this guinomi in Yufuin Kamenoibesso Kagiya. This is a kobiki guinomi of Mr. You Moriyama who had studied with Tsunohazukama kiln of Shinjuku Tokyo. I became happy feelings, as two fish are drawn like talking on the inside of the guinomi. This travel was able to enjoy Aso and Kuju of the autumn tint enough. I thought I want to visit here for the fly fishing someday again.
Copyright © 1997 Yoshikazu Fujioka.
All rights reserved.