Oshorokoma

Salvelinus malma malma



Amemasu

S. leucomaenis f. leucomaenis



Nikko-iwana

S. l. f. pluvius



Yamato-iwana

S. l. f. japonicus



Gogi

S. l. imbrius




Japanese chars are two species that are Oshorokoma (S. malma) of Hokkaido, Iwana (S. leucomaenis) of Hokkaido and Honshu. Until now, Iwana (S. leucomaenis) were classified in detail to Amemasu, Nikko-iwana, Yamato-iwana, Kirikuchi and Gogi because of spot's size, color, etc., but Dr. Kinji Imanishi (1967) regarded those Iwana as local variety in the same species on the basis of the theory "clin" (HUXLEY, J. S. 1938; 1940), and Iwana's color represent variety that range from light color to deep color.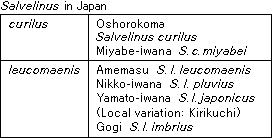 Oshorokoma have 5 or 10 parr marks and red spots on the body side. Their stomach turn into red or orange color in the spawning season. There are sea-running type and river type, but in Hokkaido almost all of they are river type because Hokkaido is most southern life area in the world. They are about 30cm (12in.) long. They inhabits middle of Hokkaido, Sakhalin, Kamchatka, Alaska, and the northern California. Their lake form is called Miyabe-iwana, Lake Shikaribetsu and rivers that flow into its lake are their homes. They are regarded as Oshorokoma's subspecies but Miyabe-iwana and Oshorokoma are not different externally. Miyabe-iwana have many gill than Oshorokoma. It is regarded as adaptation to get animal plankton while circular tour in the lake.

Amemasu have body just like a log. They have white spots that are the same size of their pupil or bigger on the body side. Their color of body are from dark brown to dark gray or silver white. They inhabits Mogamigawa River (Yamagata), the Pacific Ocean side of North of Tonegawa River, Hokkaido, Northeast of Korean Peninsula, Saghalien, the Far Eastern Russia and Kamchatka Peninsula. There are sea running type and river type. Sea-running types are about 70cm (27.5in.) long or longer.


Nikko-iwana have yellowish orange spots or pink spots that are the same size of their pupil on the body side, and spots of small size are scattered on the back. They inhabits Sea of Japan side of North of Hinogawa River (Tottori), the Pacific Ocean side of North of Fujigawa River (Yamanashi) or Sagamigawa River (Kanagawa).

Yamato-iwana have vermilion spots up and down on lateral line. The spot color of Nikko-iwana becomes more and more pale as they grew up, but the spot color of Yamato-iwana are not pale even if they have grown up. They inhabits mountainous region of middle Honshu, rivers of east of Lake Biwa. They are 25cm (10in.) long. Distribution's boundary of Nikko-iwana and Amemasu is not clear.
Iwana that live in Kii Peninsula is called Kirikuchi. They have spots of vermilion that are outline indistinct on the body side and white spots are also not clear. Now, they live slightly in only two places that are upper area of Kawarabigawa River and Tenkawa River in Nara. Those are the most southern life spot of Iwana (Salvelinus) in the world.

Gogi is like Nikko-iwana, but they have clear white spots on the head. They inhabits from Hiigawa River to Takatsugawa River (Shimane), from Yoshiigawa River (Okayama) to Otagawa River (Hiroshima) and Nishikigawa River (Yamaguchi). Kabatanigawa of Takatsugawa River and Agetani of Nishikigawa River are the most western life spot of Iwana (Salvelinus) in Sea of Japan side and the Pacific Ocean side respectively in Japan. They are about 20cm (8in.) long. There is a view by Dr. Kinji Imanishi (1967) Gogi is subspecies of Iwana (S. leucomaenis). Gogi was derived from Kogi of Korean that means fish.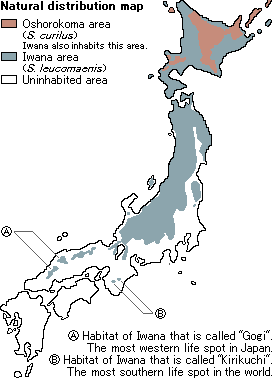 References: Imanishi, K. (1989). Iwana and Yamame. Tokyo: Heibonsha. Kawanabe, H., & Mizuno, N. (ed.). (1993). Nihon no Tansuigyo [Japanese freshwater fish]. Tokyo: Yama-kei publishers. Matsubara, H. (1981). Sakeka Keiryugyo no Bunrui to Seitai [Classification and Ecology of Salmonid]. Besatsu Fishiing Iwana Yamame. Tokyo: Sanpou Publishing. Shiraishi, K., & Wda, S. (1993). Iwana no Kao [Iwana's Face]. Tokyo: Yama-kei publishers.